Roto Mining Station
A Complete Turnkey Solution for all your Mine Dewatering Needs
A Complete Turnkey Solution for all your Mine Dewatering Needs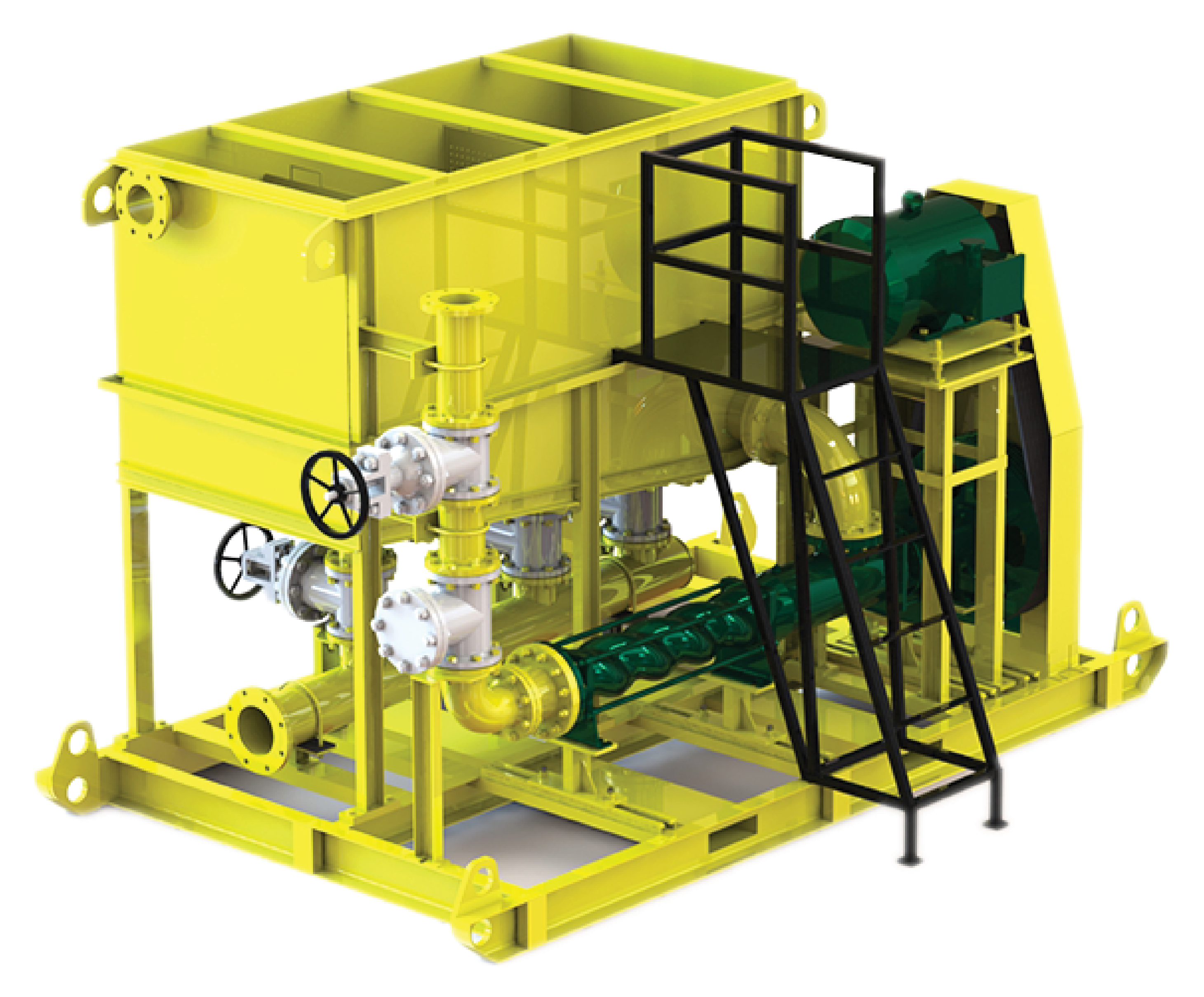 Efficiently Pump Media at High Pressure; thus eliminating the requirement of using Multiple Centrifugal Pumps to achieve the same duty parameters.
Provide Better Resistance against Hypersaline Water & Abrasive Media.
High Pump Efficiency ensuring Low Cost of Operation.
The Pump can be used under Varying Pressure Conditions & still deliver close to the same Flow Rate which means the Pumpset can 'Travel' Down a Mine as the Depth Increases.
Solid Separation Tank to filter out Large Solids from entering Pump Suction.
Belt Drive & Pulley Design with Removable Pump Inspection Ladder.
Options available for Anti-Reversing Device & Float Level Transmitter.
80% Reduced Maintenance Time in replacing Rotor & Stator.
Increased Manpower Safety.

Material of Construction
Tank Capacity – 4000 Litres
Tank – Mild Steel
Base Plate – Mild Steel
Line – Mild Steel
Gate & NRV Valves – Cast Steel
Pulley – Cast Iron
Header – Mild Steel
Ladder – Mild Steel
Motor Mounting Stool – Mild Steel
Guard – Aluminium
Wire Mesh (Optional) – Stainless Steel 202
Dimensions (L*W*H) – 4253*2800*2570 mm
Pump Performance Range
| Pump Model | Max. Flow | Max. Pressure |
| --- | --- | --- |
| 08 | 16 LPS | 48 bar |
| 10 | 28 LPS | 36 bar |
Material of Construction
Rotor –SS316 with Hard Chrome Plated
Other Options Available – Duplex, Super Duplex & Tungsten Carbide Coating
Stator – Hard & Soft Natural Nitrile/Rubber Elastomer
Other Elastomer Grades are also available as an option
Casing – Cast Iron, Fabricated Steel & Stainless Steel
Other Options Available – Duplex, Super Duplex & Exotic Materials